I'm the type of person who thrives when I'm surrounded by inspiration and affirmations. After all, your thoughts become your actions, and your actions allow what you want in your life to manifest. So creating a vision board for the new year was a no-brainer. This isn't my first time creating a vision board, but this board right here? It's the first one that I LOVE—and this makes a huge difference when it comes to accomplishing your goals. Want to create a vision board that works, excites + empowers you, and won't end up in the trash in a couple months? These are my tips: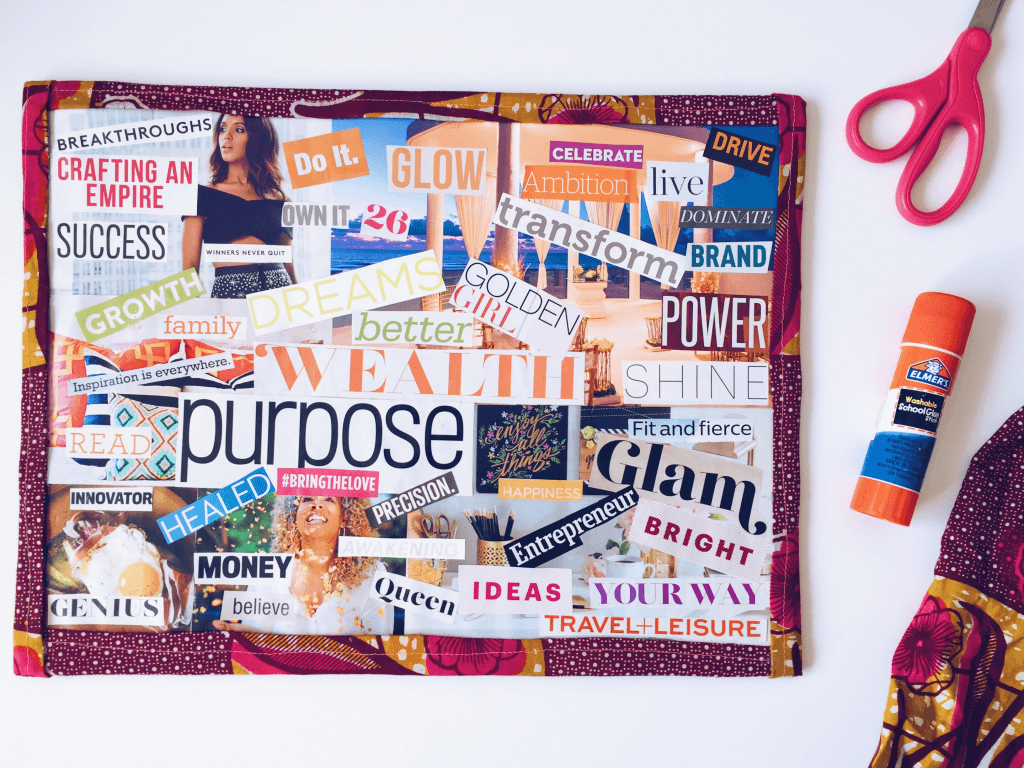 Decide what type of year you want to have
Be specific about what you want to accomplish and why. Whatever your goals are for the year, write them down and keep them in mind as you look for words and images to cut out.
Use words that really resonate with you
Don't use just any 'ol words. Some words you find might look cute or sound good, but if they don't truly relate to what you want for yourself, don't bother cutting them out. I ended up not using five of the words I cut because, after I thought about it, they didn't have much meaning to me. Don't cut out "six-pack abs" if you truly couldn't care less about having a six pack.
Consider the arrangement of your images
If you look closely enough, you'll see I placed six images on the board first (from left to right: Kerry Washington, wedding setup, pillows, egg+prosciutto+avocado sandwich, Kelis, and a workspace). I played around with the arrangement of these images until there was very little white space left when it was time to add my words. This makes the board look like a collage, and that's the look I was going for.
Create something you're proud of
The other times that I've made vision boards, I used flimsy, 8.5 x 11 paper. It doesn't get any more lackluster than that. This time, I used a canvas panel from a 3-pack I bought from Walmart last year. The quality is great and it feels like an actual board. To give the board a framed look, I cut an old ankara headwrap and glued it onto the board with hot glue. You can use a ribbon or an actual frame for a similar look. Get creative. Your vision board doesn't have to be perfect, but it has to motivate you to MOVE and get ish done.
Make it visible
Your board isn't gonna do you any good sitting underneath a stack of papers on your desk. Hang up your board in a place where you'll see it every day. This way, you'll always have a visual reminder for what you should work toward, every day.
Fun facts:
I added Kerry Washington to my board because I wanted to include at least one woman I admire. For me, Kerry Washington oozes class, style, intelligence, talent, warmth, beauty, and so many other things that would take me all day to list.
I added Kelis because I love the happiness she displays in the pic.
I added the sandwich because… fattie foodie.
Overall, I'm ready for a purposeful and prosperous year of winning, living, and radiating happiness… and eating great food. 😉
Your turn:
Have you created a vision board before? Did it help you accomplish your goals?
Tell me in a comment below.
P.S. if you create a vision board, tweet me a pic or tag me on Instagram! (@nessarwilliams)