You finally have a job interview. *Beyonce shimmy* You're happy about the potential of landing a new job, but your hard work isn't over yet! Now it's time to prepare to kill your interview. These are interview tips and tricks that will help you show why you're the most qualified candidate for the job: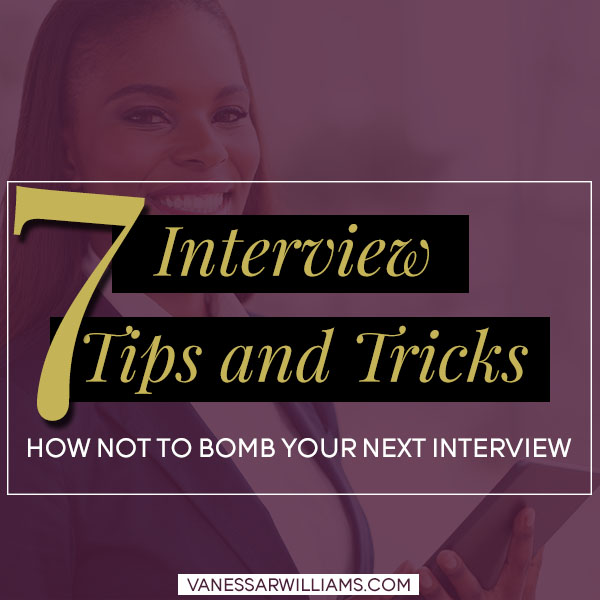 1. Know the Company Like It's Your Business
There is nothing worse than walking into an interview without researching the background of the company. I know because I've done it. Employers are instantly aware of applicants who have done their research… and those who have not. In advance, research the company's mission, values, services, products, culture, and latest press. This is also a good way to create questions for the employer– more about that later!
2. Get In Touch with Yourself (meditation not required)
You might be thinking, "Who knows me better than I know myself?" This is true, but how many times have you been speechless when asked "What are your weaknesses?" Now, I'm sure you know what your weaknesses are, but when they're not something you give much thought to, you're left scrambling to give a clear answer. Google "Questions employers ask." Create a list of at least 10 general, common questions that employers ask, and write down your answers (mock interviews with friends or family are great, too!). Treat your list as a study guide that you review before every interview so you don't lose sleep over the questions you'll be asked.
3. Carry a Padfolio (and a pen)
A woman who walks into an interview with a padfolio is a woman to be feared because she clearly has her stuff together. Well, that's what I like to think anyway. In your padfolio, make sure you have a notepad with extra copies of your resume (printed on resume paper, of course), references, and a portfolio, if applicable. You never know who else you'll meet in the company, and if they want copies of your employment history, it doesn't hurt to be prepared.
4. Take Notes
Quickly write key points or names that you want to remember or have questions about. Beforehand, make sure you ask the employer if they're OK with you doing this. And did you notice how I made "key points" bold? Please don't take notes as if you're back in your college biology class. You still need to be attentive during the interview.
5. Ask the Employer Questions
Do not, I repeat, DO NOT ever leave an interview without asking an employer a few questions. Nothing says "Is this interview over now?" like not having any questions.
But what if you really don't have any questions? Reach out to your good friend Google. Search "Questions to ask employers," and before your interview, write a few down in your padfolio. However, before you ask your questions, make sure that the employer didn't already answer your question earlier in the interview. Here's a good one: "What is the number one issue this position faces?"
6. Focus and Be Confident in Yourself
Show your enthusiasm for what the employer has to say. Smile every once in awhile. Make eye contact and listen intently. And most importantly, take your time to answer questions. Waiting a couple seconds to gather your thoughts before you answer is a good way to avoid the "ums" and "well, you knows" that everyone hates to hear. You were chosen for an interview for a reason, so let those reasons shine in your interview. You got this!
7. Write a Thank You Email
Emailing the employer to thank them for their time shows that you are truly interested in the position and that this is not just another job to you. Send the email the same day of the interview (and no later than the following morning). If you met with multiple employees of the company, you should write a letter to each person. If you're feeling fancy, mail an actual letter. This requires you to pay a little extra for next day shipping, but your unique approach could be the deciding factor in the interviewer's decision process. I'll talk about what to include in your thank you letter in an upcoming post.
Honorable Mentions
Arrive 10 minutes early. If you arrive on time, you're late.
Turn off your cell phone. No,"silent" does not equal off.
Keep your look professional and neutral (color wise). That Forever 21 mini dress you've been eyeing? Not a good choice for your interview. I'm just looking out for you.
What are your best interview tips and tricks?
Tell me in a comment below.