About a year ago, I realized how important it is to make time for myself. With work, family, friends, and everything in between, it's easy to forget about your emotional and mental well being. Spending time alone and doing WHATEVER your heart desires is always a great way to re-energize and regroup. After all, you can't be a good friend, sister, girlfriend, daughter, or co-worker if you're not tending to your own personal needs. This is a list of self date ideas that you can refer to whenever you start to feel drained and off balance (I recommend a self date at least once a week!). And, just to be clear– yes, these are all things that you should do by yoself. Enjoy!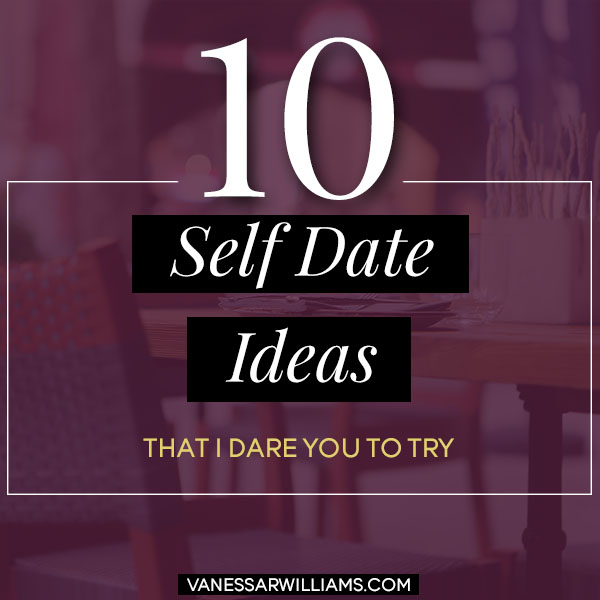 1. Wine + dine yourself. This is one of the best ways to learn not to care about what people think about you. I have to admit, the first time I went to lunch/dinner by myself I couldn't help but think "I'll be sitting at a table by myself; what are people gonna think?" But I did it anyway. Then I did it again…and again. Now I walk into restaurants thinking "Who gon' stop me, huh?!" Take your time to eat, sip, and people watch relax.
2. See a flick. You won't have anyone asking you "Did you see that?!" Enough said.
3. Search Groupon for activities. Groupon is the go-to source for pretty much any date you want to plan for yourself. Whether it's taking a painting or fitness class, attending a wine tasting, skydiving, going on a boat ride, or checking out a new restaurant in town, Groupon has it all at discounted prices.
4. Plan a DIY night. This is the perfect time to make something that you've been eyeing on Pinterest. You'll be surprised by how crafty you can be.
5. Create a relaxing evening. Light some candles, run a bubble bath, slip into your PJs, play your fave slow jams, and enjoy the rest of your night (a Netflix marathon wouldn't hurt either– neither would Redbox).
6. Go to a bookstore (and pick up some Starbucks on the way!). If you enjoy reading, head to a bookstore or library, pick a few books and magazines to read, and enjoy your latte.
7. Don't worry– BE YONCE. I know you've all seen Beyonce's 711 video 300 times already– or is that just me? If that video doesn't make you wanna blast your favorite songs and dance in your underwear, I don't know what will. *smack it in the air*
8. Go to a concert. The only thing better than dancing to Beyonce in your living room is seeing her in concert. Create a list of artists that will be in your city throughout the year and go see them! You can also give theatrical performances and festivals a try, too.
9. Spend the night in a nearby city. Discover the city's nightlife and attractions. Book an inexpensive hotel. Go out to dinner. Again, Groupon is a great site to use for this type of thing. You never know what hidden gems are just a short drive away.
10. Plan a picnic. Think about locations in your area that would be perfect spots for a day of laying out in the sun and enjoying your favorite meal. This is also a great time to read a book or write in a journal (if that's your type of thing).
How do you like to spend your time alone?
Tell me in a comment below!