I first learned about Philece AKA "That Artista" back when I started my natural hair blog around 2010. I fell in love with her work and at one point, I even won one of her art pieces in a giveaway. Ever since I started following Philece, I've been drawn to not only her brilliant artwork—and let's face it, her hair and beauty!—but also her positive energy.
She's one of those people who you can just instantly feel the genuine good vibes she emits, even if you've never met her in person. That's why I'm so happy I was able to interview her about her journey as a fine artist and graphic designer. Philece drops some serious gems that all creatives need to know (and embrace) in order to make a living doing what they love: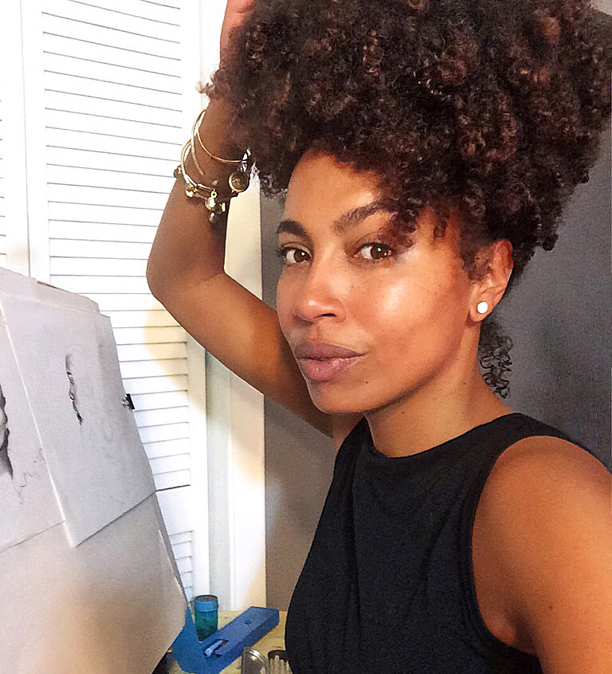 The Voice: Philece
The Career: Artist & Graphic Designer
The Brand: http://www.thatartista.com/
1. Where do you currently live and what do you like about it? 
I currently live in Nassau, Bahamas. It's where I was born and raised, which means I am always surrounded by my two favorite things—my family and the ocean. After being away for so many years, those are the main reasons I'm loving where life has me right now!
2. When did you know you were meant to be an artist and graphic designer?
I don't know if there was ever a time where I knew I was meant to be an artist. In many ways, I have just always been one. I have been involved in the arts since I was four years old, as a dancer until my mid 20s, and drawing and painting for as long as I can remember.
Being a designer emerged from a desire to attain degrees in fields that would allow me to use my creativity in film and video studies, then again in graphic design. Being an artist is who I am and always have been.
3. Did you have any doubts or feel any pressure to pursue a more "typical" career?
Oh, but of course! Early on, when applying for college, there was some pressure, more so being told that art was a hobby and there was no way to make "real" money or for it to be a "real" career. That lead to me falling back on my second love of science and being a pre-med/microbiology major until I found my way back to my heART. It was a huge decision, but I am so glad that I did. I switched my major three years in, and I haven't looked back since!
4. What's the hardest lesson you've learned in your career so far? How'd you deal with it?
Not every job is a "yes job." Early on I had to learn not to shortchange myself. People will devalue what you do if it means they can benefit and negotiate you to pocket change if you allow them to. Many times, they truly don't have a clue of what goes into the work or they just don't care.
In the early stages of your career, it can be really easy to be taken advantage of. Do the research and compare with others in your field. Know the ins and outs of your industry, and stay well-versed when it comes to all of the changing trends.
The learning doesn't end when you graduate. These are the things that I did, and still  continue to do many years later, to ensure that I am working efficiently and providing the highest quality while being true to my craft.
Learning to say no is powerful, and it becomes so much easier when you know your worth and leave people with no other choice but to respect you and your work. I am so grateful for all of the people who trust my judgment and my hands. I'm blessed that most of the time, this trust leads to them surrendering full creative control to let me just do what I love!   
5. What are misconceptions about your field?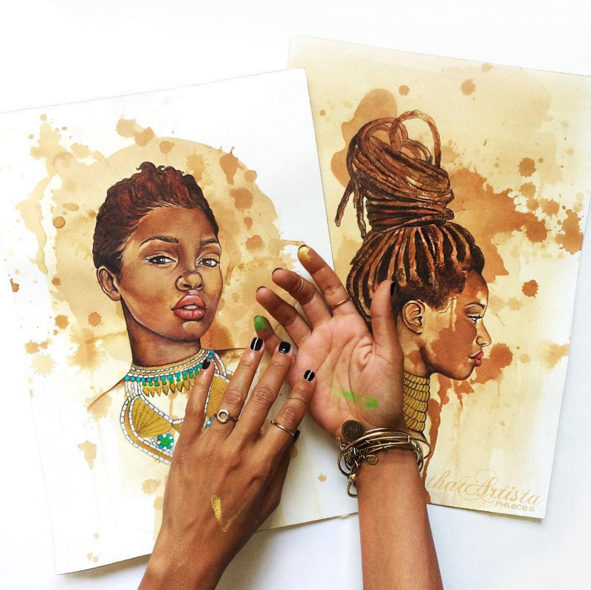 As a fine artist, illustrator and graphic designer, the misconceptions can be the same across board. I can't tell you how many times I've heard, "I just need a quick sketch," "It's just a simple design," or "It shouldn't take that long or cost much." As a designer, I can spend hours/days referring to briefs, researching, and conceptualizing before I ever get to the creative phase or the computer.
As an illustrator and fine artist, I believe in a strong foundation, so it's never that simple for me. Besides, the reality is most people's "just a quick sketch" never really is. Even the most seemingly simple design or illustration, by any great designer or artist, was thoroughly researched, and they probably went through a number of sketches and revisions to create that simple, yet strong, final result that people love!   
The second misconception is that we are mind readers, and I am sorry to disappoint, but that I am not lol! Some clients present what they think is a well thought-out idea or they have no idea of what they want and expect you to create magic out of nothing. It's why design briefs are so important, as well all of the detailed questions that I ask in the beginning and sometimes during a project. Sometimes you have to encourage the information out of them, other times you have to show them what they can't see. 
6. What apps/tools/programs keep you focused and productive?
Being extremely organized increases my productivity and maintains my sanity. So iCal and Google Calendar are probably the most important for me. I'm old school, so writing things down that I can refer back to and check off is everything!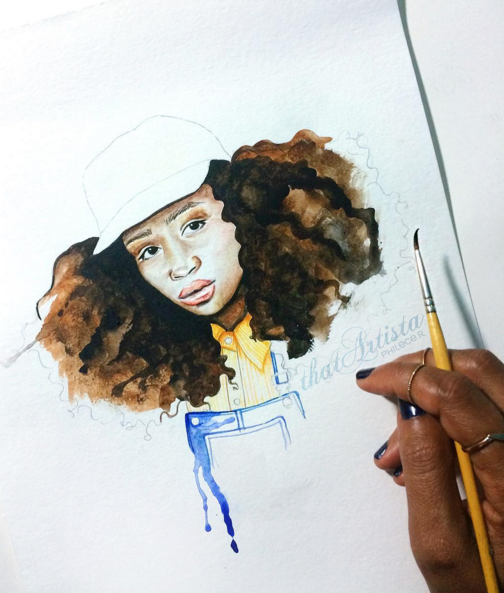 7. On any given Friday, what are you likely doing?
You can find me curled up in bed or the couch with a good book or movie while sipping tea or a glass of wine. Friday evenings are also the start of spending my weekend creating for myself. It's how I wind down from the hectic week. Simple, sweet moments that I treasure always!
8. Do you ever feel low on inspiration or creativity? If so, how do you overcome this?
I can't say that I have ever been low on inspiration or creativity. I believe that inspiration is everywhere, and I find it every day in everything around me. However, there are times when I may be low on motivation. Whether I'm physically or emotionally exhausted due to overworking or I'm experiencing the unforeseen circumstances that life can bring, there are times when the energy needed to create is just not there.
If time permits, walking away for a bit or switching to a different project, so I am able to return with fresh eyes and a new perspective, helps. But those times when there's a deadline and you just have to push through it, music is a huge motivational force for me and gives me that nudge that I need. 
9. What do you do for your self-care?
I do anything that allows me to release energy that doesn't benefit me and anything that will amplify my happy! I spend time at the ocean, whether I just sit or take a swim—it's the one place I feel completely free! Amplifying my happy also means that I spend time with and give to the ones who matter the most—my family and friends. I love flowers, so every weekend, I enjoy picking out flowers for the week that I arrange and keep on my desk, giving me something beautiful to look at throughout the week. It's amazing how the simplest things can soothe your soul.
But just as important as the time with my loved ones is my solitude. I adore and need my alone time to recharge, to just be. These are the times when I write, reflect, spend time on my personal work, meditate, pray, or go to a gallery or a book store. Whatever my spirit urges me to do that encourages a smile in my heart and on my face, that's what I do for my self-care! 
10. What does living your best life mean to you? 
Living my best life means being fearless, having no regrets, learning always, being present for others, spreading positive energy, being authentic, loving completely, no longer waiting for the right time to fully LIVE this divine gift called LIFE, doing what I love, and forever being true to my soul!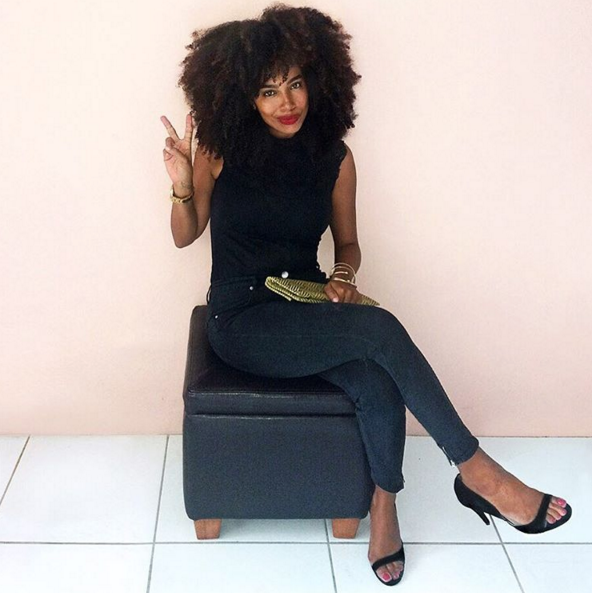 Can you relate to Philece's story?
Share your thoughts in a comment below.