For the past few weeks, I've blogged about why you need to create content for your brand and how to create and promote content to build your brand. For the fourth and final post of this series, my plan was to write some mumbo jumbo about how to use your content to build an engaged, online community that supports your brand.
Thanks to something that recently caught my eye on Twitter, I ditched my original plan. Truth be told, it's something I've noticed for some time now, but I chose to ignore it. Today, I'm sharing my number one tip for creating content: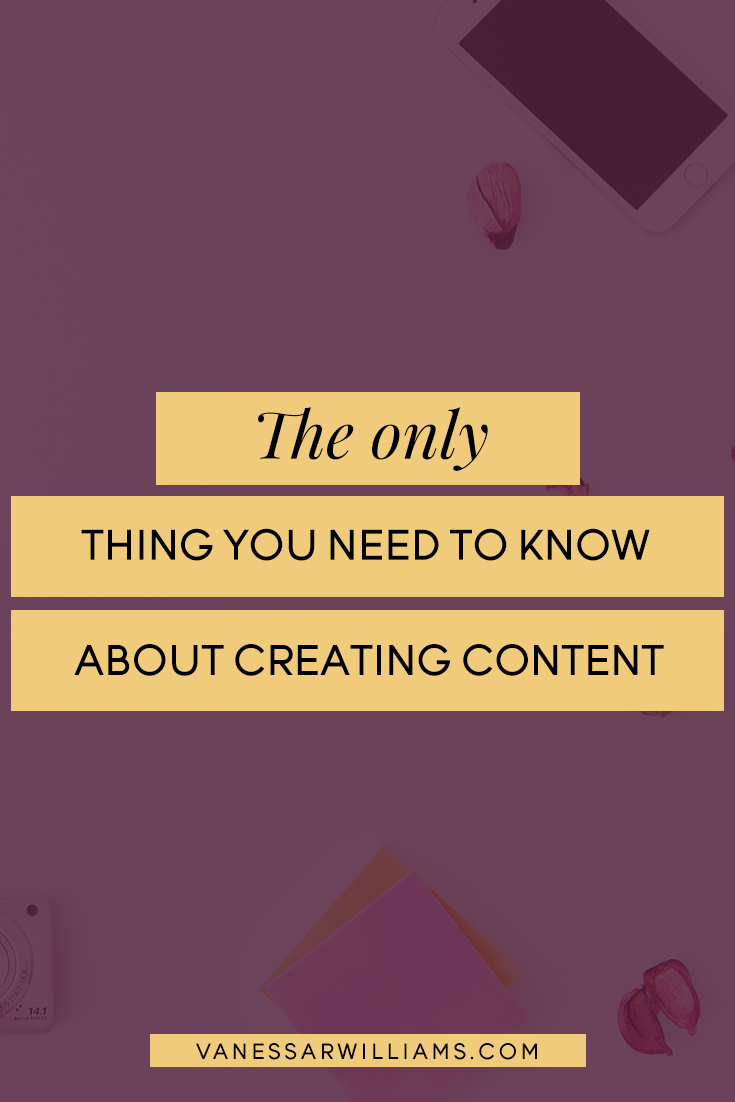 Create content you genuinely care about
I took a look at my Twitter timeline one day, and all I saw were "How-To" posts about getting more newsletter subscribers, more website traffic from Pinterest, more Instagram followers, and the list goes on and on. Granted, I follow quite a few entrepreneurs who teach others how to build a business, a brand, or a blog, but it makes me wonder… do you really care about the content you create?
Or are you jumping on board the blogging bandwagon because some successful blogger said you can make $10K in a month like she did?
I don't care how saturated a niche is– if you're committed to being yourself and you know and love a topic so much that you want to teach others about it, there's a gold-plated seat for you in that niche with your name on it.
The problem is, however, many bloggers aren't using their unique personalities and voices in the content they create. From the looks of it, many aren't even truly interested in the topic they blog about. How can you blame them? You read one article about how to get more [fill in the blank], and you've read 'em all.
I recall a comment a beauty blogger made a couple years ago. She said she was tired of people blogging only about… blogging. At the time, I was like, "OK, girl," not really seeing what the big deal was, but unfortunately, she's right.
After I realized how repetitive the brand/business blogosphere is, I took a step back to reevaluate the content I create and the people I create it for. Writing/editing is what I LOVE to do, and over the last 5 years, I've learned a lot about how to create a successful blog and online presence.
Sure, I could base my entire blog on content creation and social media marketing, and even though I was on that path, if I'm honest with myself, I won't feel fulfilled for long if I continue to create this type of content. It actually makes me feel kind of empty.
This past year has been such a scary, exciting, and enlightening time for me, and I'm at a point in my life where I know I don't have to compromise when it comes to living my best life and serving people I'm meant to help.  Am I meant to add more noise to the "how to create a badass blog" world? Nah. I don't think so.
As a content creator, you learn the importance of creating value for your audience. However, what's more important than creating value for your audience is caring about what the heck you're saying in the first place.
We live in such a technologically advanced world where anyone can make a living doing pretty much anything. This is why I can't help but think about bloggers out there who create content about every blogging, branding, and business tip under the sun, but they wish their true passion (whatever that is) was "good enough" to blog about.
I think about these bloggers because I got caught up and became one of them. I didn't think my true interests and passions were enough to create a successful online presence. Deep down, I knew what I wanted to share and how I wanted to help people, but I lacked the courage to commit to what I truly wanted. I didn't believe I was enough. But I am. And so are you.
Many people are creating successful online businesses, and they're packaging all their business expertise with a cute, glittery bow for their audience, which is great. But please remember that there's more than one path to success. If creating content about a certain topic doesn't feel completely right to you, do like Keyshia Cole and let it go.
One of the most important lessons I've learned in the last couple of years is that it doesn't matter how different, awkward, or weird you think you are. There are plenty of people who can relate to your story and what you have to offer. PLENTY.
So be honest with yourself. You know the true things that make you excited to wake up in the morning. The things that you can talk endlessly about without feeling drained or annoyed. The things you would blog about if you weren't so consumed with what everyone else is doing.
Create content about these things and everything else will easily fall into place.