There's nothing more refreshing than seeing someone share their personality with the world without any restraints. People who confidently present their true selves to their audience make me so happy… almost as happy as binge watching on Netflix with sushi and wine and…well, you get the picture. As bloggers, we can get caught up in sounding professional or playing it safe, but there are already plenty of bloggers out there doing that, and trust me, we don't need anymore.
According to worldometers.info, more than 800 million blog posts have been published this year– yes, you read that correctly. Now think about your favorite bloggers. The bloggers whose sites you stalk all day, every day hoping they've posted something new because you can't get enough of their commitment to authenticity and giving you exactly what you need. How do they make their voices heard among the noise that other bloggers are creating?
As a blogger, your mission is to confidently create your own lane and drive the mess out of it because bloggers who lack personality and spark are easily forgettable, and they aren't able to gain a loyal audience. If you're struggling with embracing your voice, these are six easy ways to find your voice as a blogger.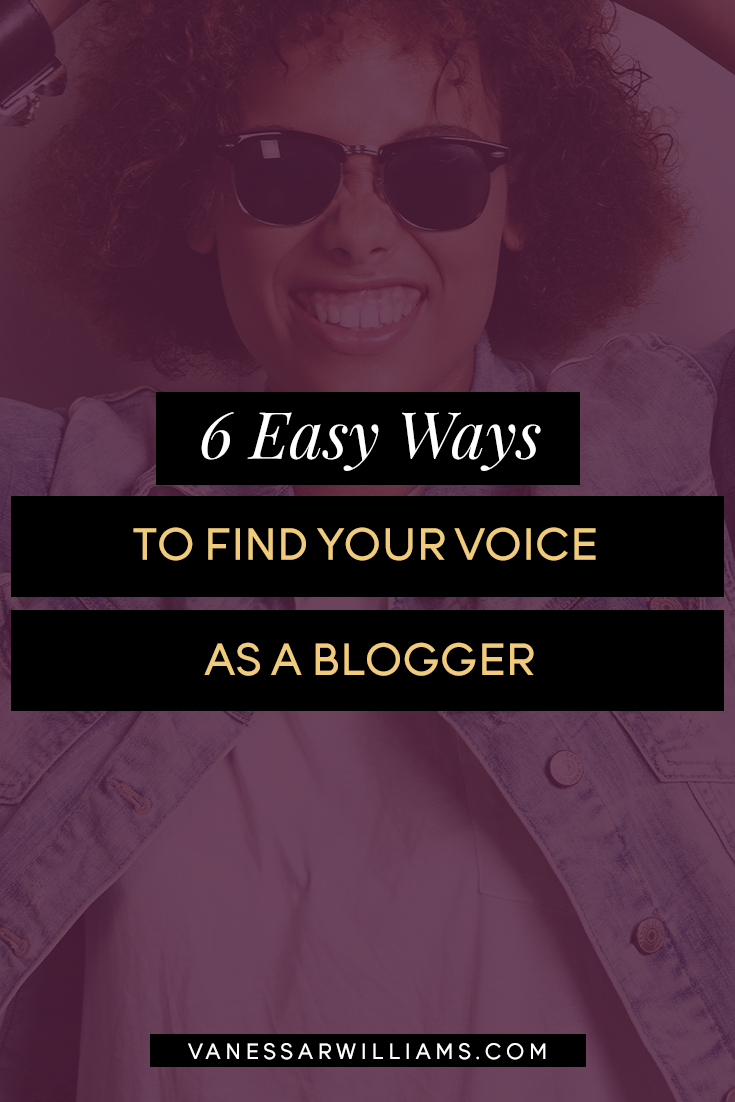 1. Keep your ideal reader in mind
Picture your ideal reader. How does he or she look? What kind of personality do they have? How do they talk about their interests, passions, and challenges? How old are they, and what's their level of education? It's important to keep these key questions in mind because while you want to remain authentic to who you are, you also have to meet your audience where they are as well. If you have an advanced degree in the field you're blogging about, but most of your audience consists of beginners, it's probably not a good idea to talk to your readers as if they're your colleagues who know all of the technical terms and lingo of your field.
Also, knowing your ideal reader and what their challenges are motivates you to fulfill the purpose of your blog and to provide the game-changing knowledge your audience needs to hear from you, despite the initial fear you might have of what others think of you.
Heads Up! I created a simple checklist to help you create blog posts with a consistent voice. It's at the end of this post, so keep reading. 😉
2. Describe yourself in three words
If you're like me, you avoid writing and talking about yourself like the plague. However, having a solid and positive sense of self allows for consistency and an unbreakable foundation for your blog. Create a list of three words that describe you, and refer to this list to make sure you can see and hear yourself in your content before you click "publish." Sometimes we're too concerned about getting our content out there that we forget to add our personality into the mix. Whether you describe yourself as humorous, blunt, understanding, sassy, or cheerful, every post you write should showcase your personality.
3. Ask two close friends or family members to describe you
It's always helpful to see how other people view us; it can also be a much-needed confidence boost. I recently asked someone how they would describe me, and one of the words they used was "adventurous." That's probably one of the last words I would use to describe myself, but I'll take it!
How do your friends and family describe you? Hopefully they use similar words that you used to describe yourself—if not, where's the disconnect? For example, maybe you described yourself as outgoing and a good friend described you as reserved. What can you work on to make the way you feel about yourself more apparent to those around you—especially your blog readers?
4. Write one journal entry a day for at least a week
Not only is this a great way of winding down at the end of the day, but it also helps you see the patterns in how you describe your thoughts and emotions. What'd you do? What books did you read? What made you upset or happy? You might use words like epic, wack, on fleek, crappy, or awesome. Write in a way that's natural for you (no filter!), and pay attention to the words you use to describe what happens. The more you write, the more comfortable you become with letting go of your fear of being yourself and allowing your personality to shine through.
5. Review your text messages
You probably weren't expecting this as a tip, but what better way is there to evaluate your natural voice than in your text messages? This is likely one of the main mediums where you're yourself, so look through your texts and take note of any patterns that you notice. Are you usually animated? Do you use emojis like they're going out of style (guilty)? Are you always making someone laugh or giving advice? All of these overlooked yet useful elements of texting can give you the insight and motivation you need to transfer that same personality to your blog.
6. Commit
It's disheartening to read a blogger's content and notice their struggle to commit to their voice. If you're someone who curses like a sailor in your everyday life, and you've determined that your audience is similar to you in this way, don't be afraid to sprinkle that into your content. I've seen many bloggers do this successfully, and their audiences love them for it because it's who they are. If you don't usually use the latest slang, but you think writing with it will keep your readers engaged, don't do it, reconsider! Be who you are unapologetically and completely because people love transparency. Folks can also tell when you're putting on a show, and they won't support it for long. Don't worry about not connecting with certain people because what you have to offer is not for them, and that's perfectly OK– everything ain't for everybody.
The great thing about finding and owning your voice is that you already have everything you'll ever need to do it successfully—you. The more you assert your voice, the less concerned you become about ruffling feathers or not being liked and the more you care about remaining genuine and serving those who need your help the most.
Click here to get your free voice checklist.
Now it's your turn.
How would you describe your voice, and how long did it take for you to own it?
Tell me in a comment below.